5 Cucumber Site Essentials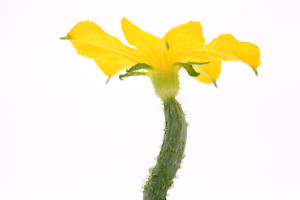 Cucumbers can be very rewarding to grow if you follow these essential site recommendations
CUCUMBER SUPPORT
Cucumbers are a floppy lot, and really need our help and support. Train plants up a 5-6 foot high support at the rear of your garden or bed. The support can be provided by a trellis, some netting or even a pole teepee. Your cucumbers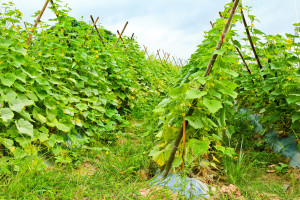 will be will be clean and easy to find. Harvesting will be easier when you are able to keep your back straight. Cucumber plants growing on a support can expose more of their leaves to sunlight. That's going to mean more cucumbers!
CUCUMBER CLIMATE
The ideal environment for a cucumber plant is sitting with its roots in humid soil, and enjoying long, hot days in full sun. Use drip tape and a timer to ensure a constant and consistent supply of water. Plant cucumbers where they will provide summer afternoon shade to cooler weather crops like lettuce. This will reduce the cucumber's need for water, and will help delay the lettuce from bolting. Plant cucumbers where they will get the sun for as much of the day as possible. Mulch soil with black plastic to increase the heat. Cover the plants with a low tunnel in cooler years to keep plants warm. Provide good air circulation to reduce the possibility of fungal or bacterial problems.
CUCUMBERS GROWING IN CONTAINERS VERSUS IN BEDS
A bush type of cucumber is suited to container planting or planting in beds. Vine type cucumbers are happiest planted in the ground where there is room for their tap root and a strong base to anchor the support structure.
CUCUMBER GROWING MEDIUM PREPARATION
Planting beds should be prepared one week before planting time. Remove any weeds and other plant debris. Test your soil ph and ensure that it is between 5.5 to 7.0. Calcitic limestone can be added to increase the ph. Elemental sulfur can be added to decrease ph. Dig a hole 1 foot wide and 1 foot deep for each cucumber plant. Fill the hole halfway with a mixture of:
composted manure
rock dust
blood meal
worm casings
Return the removed soil to the holes to make the planting hills.
CUCUMBERS IN THE ROTATION PLAN
Cucumbers belong to the Cucurbitaceae family along with squash, melons and pumpkins. Plants in this family should not follow each other in the rotation plan in under three years. Cucumbers are best to follow cabbage, lettuce, peas or spinach in a rotation plan .
[tweetthis]Check out this post for 5 Cucumber Site Essentials![/tweetthis]